The Best Utah Wedding Officiants
Updated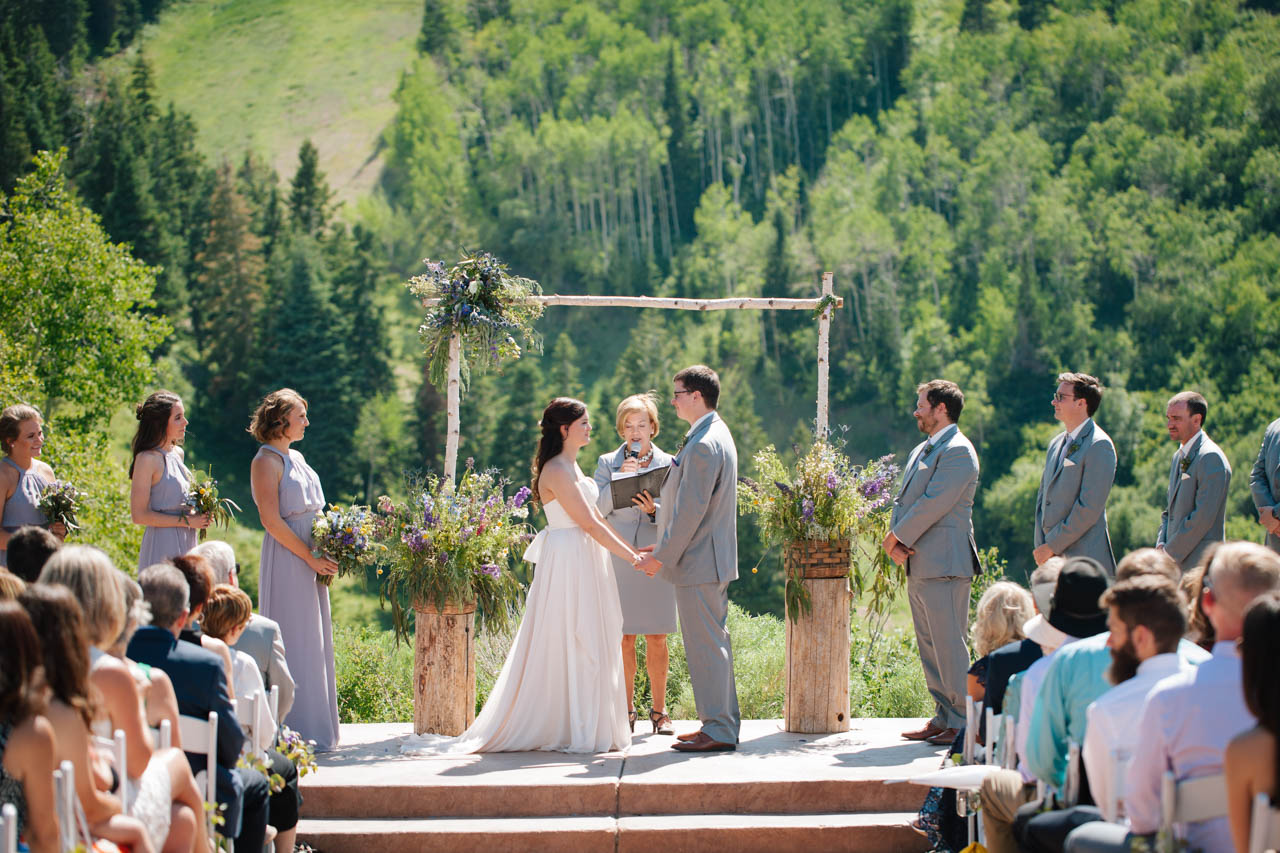 While it's easy to get swept up in the excitement of planning a big party, don't forget that the ceremony itself is the centerpoint of your wedding day. It's the big moment when you'll exchange vows, honor the traditions you choose to bring into your life together, and commit to one another in front of your family and friends. Even if you don't consider yourself to be overly sentimental, this can be a very emotional moment. You may feel overwhelmed with love, or really nervous about standing up there in front of everyone. Because of all this, it's good to know what to expect from your ceremony and important to work with a great wedding officiant who can put you at ease.
Some Things to Consider About Your Wedding Ceremony
Religious Ceremonies
If you plan to get married in a temple, church, synagogue, or mosque, the details of the ceremony will largely be taken care of. Be sure to work with your religious leader ahead of time to know what you should plan for. Your church may offer pre-marital courses to help prepare you for the big day and beyond. No matter what sort of systems are in place to help you get ready, make sure you know what the plan is and which aspects are most important to you. Depending on your faith, there may be some flexibility in terms of what you include in the ceremony. Like with most things in life, communication is key here. Communicate with your partner to make sure you're on the same page about the religious aspects of the ceremony and communicate with your religious leader about what the plan is.
The DIY Method
Because it's so easy to get ordained as a minister online, many couples choose to DIY their wedding ceremony and ask a friend or relative to officiate. This can be a great way to add a personal touch to the event and include someone who is dear to you. It can also go poorly if your chosen officiant isn't comfortable speaking in front of groups or forgets some important element of the day. After all, it's a lot of pressure and likely the first time this person is performing a ceremony. Consider these pros and cons as you decide whether to hire a pro or ask someone you know to officiate.
If you decide to ask a friend or loved one to officiate your wedding, make sure you select someone who has the physical and emotional capacity to take on the task. Think twice before asking someone who is terrified of public speaking or who has intense work or family commitments that could make it harder to be present. Communicate abundantly with them about what you expect from them and how you'd like the ceremony to go. Do some run-throughs with them and make sure you agree on an outline and timing for the ceremony.
Choosing a Wedding Officiant
If you opt to hire a professional to officiate your wedding, you'll be in great hands. A good officiant will be able to bring many personal touches to the ceremony so that it feels intimate and true to who you are as a couple. They'll also have the experience to make sure everything goes smoothly. Plan to meet with the officiants you're considering beforehand so that you can get a sense of their style and personality and make sure that they're a good fit for you. Look for someone who is enthusiastic, confident, and interested in you and your day. They will likely ask you lots of questions about your relationship, how you met, and your vision for the wedding. This will help them get to know you better and be able to make recommendations about the flow, content, and structure of your ceremony.
When the big moment arrives, your officiant will play a huge role. Not only will they be performing the marriage itself, but they'll also set the tone, help you feel at ease, and weave personal details about you throughout the ceremony.
My Recommendations for the Best Wedding Officiants
I've had the opportunity to attend many beautiful ceremonies as a wedding photographer in Utah, and a couple of officiants really stand out. These officiants strike a perfect balance between the personal and professional. They handle everything to make sure it all goes off without a hitch, and can guide you to make sure this important moment is authentic to who you are as a couple.
Anita Gordon
Visit Website
Anita has a wonderful lively personality that blends perfectly with her southern charm. Her ceremonies are always heartfelt and tailored to each couple. She's a true professional with 17 years experience. Anita goes above and beyond for her clients. She'll coach you on where to stand, where to look, and what to do during the ceremony. This takes the pressure off of you so that you can be in the moment.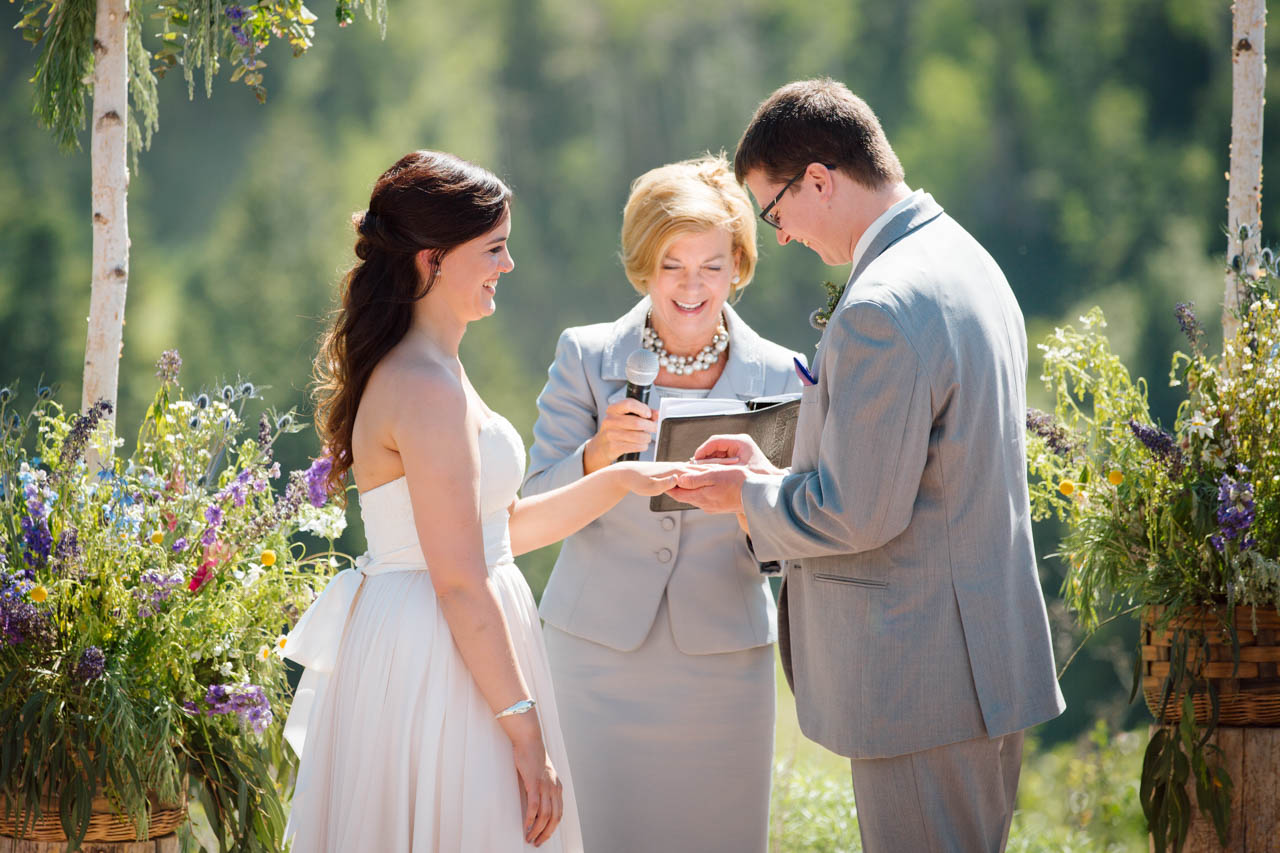 Location
Based in Salt Lake City
Cost Information
$145 starting price
$325 typical price
Affiliation
Non-denominational
Contact Information
Phone: (801) 205-6112
Email: revanita@hotmail.com
Douglas Bethers
Visit Website
Always dapper and extremely personable, Doug will customize a ceremony to suit your own love story. He'll work with you ahead of the wedding and help coax out those little details that will make your ceremony so meaningful. He sees his place as your ceremony officiant as a true honor, and is always so kind and respectful of all faiths and orientations. His calm and confident presence will help you feel relaxed during your ceremony.
Location
Based in Salt Lake City
Cost Information
$175 starting price
$250 typical price
Affiliation
Non-denominational
Contact Information
Phone: (801) 635-9880
Email: douglasbethers@gmail.com