The Best Utah Wedding Florists
Updated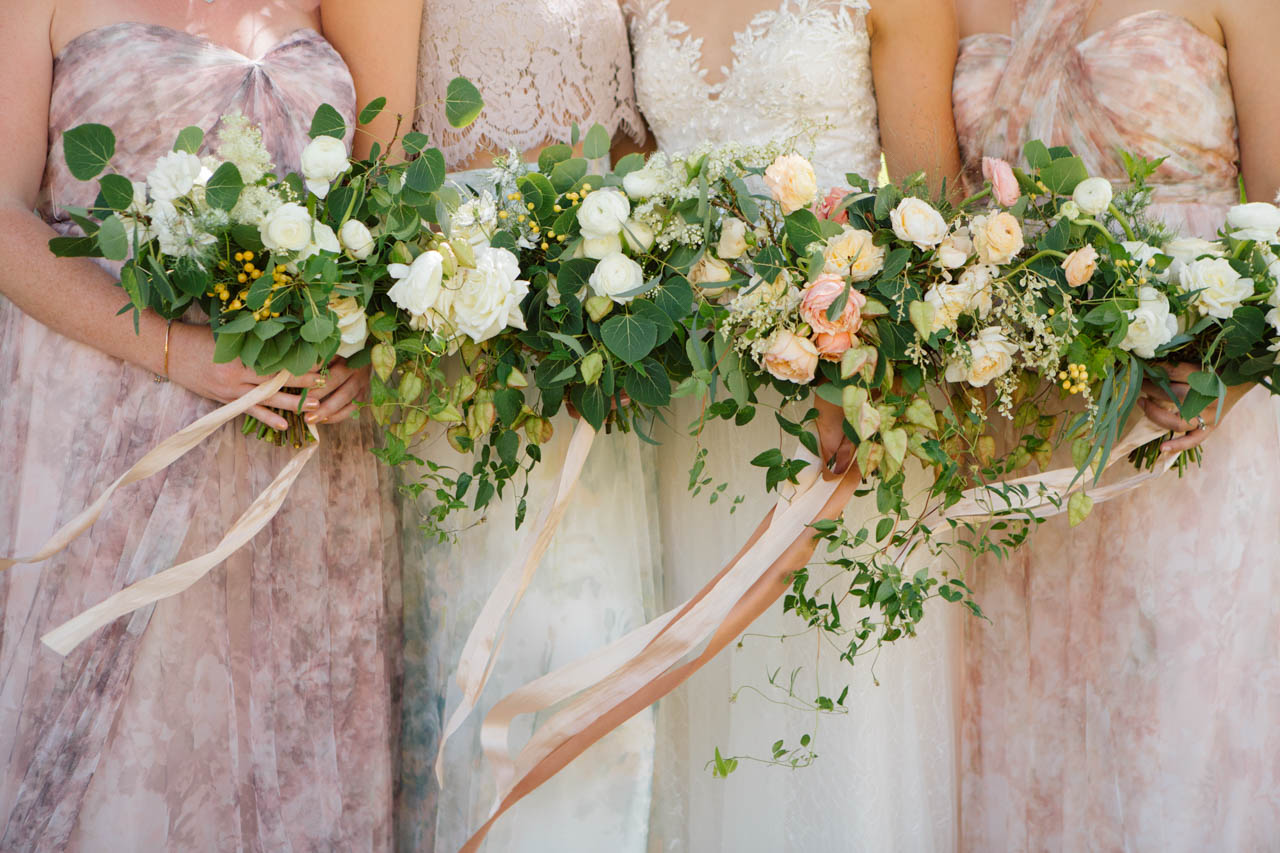 Your wedding flowers are not only a beautiful addition to your day, but also an amazing way to showcase your wedding's unique style and aesthetic. As with any part of your wedding, there are many options for how to approach the flowers. Some couples will choose to forgo them all together or opt for non-traditional decor like live potted plants, artificial flowers, or any number of other creative options. If you do decide you want fresh blooms to adorn your big day, you need a great florist to help bring your vision to life. Here are some tips to help you choose your dream wedding floral team and recommendations for great Utah florists.
Some Things to Consider as you Look at Wedding Florists
Think About Your Floral Style Preferences
When choosing a florist, you should start with a sense of the look you're going for. Make note of your favorite types of blooms and arrangements. There are many different types of flowers and colors to consider, but also different styles and shapes of bouquets and floral arrangements. Do you like traditional bouquets, romantic cascades, modern minimalist centerpieces, or wild arrangements of unique blossoms? Pinterest and wedding blogs will come in very handy here. Look at lots of different floral arrangements and bouquets and see if you notice certain elements that you're frequently drawn to.
Like any artist, florists bring their own unique style to the table. It's important to choose a florist whose work you connect with rather than just picking someone willy nilly and asking them to recreate something you saw online. Look at your potential florist's portfolio to see if you like the type of work they do. Then you can share your favorite ideas and color palette with them and let them work their magic. Florists are expert artists who will help bring your vision to life. They'll know what's in season at the time of your wedding, which textures and colors will work well together, and which look-alike blooms may be subbed in for something that's out of season or out of budget.
Also keep in mind that your floral color palette should be loose. While you want a cohesive look to your wedding, flowers don't necessarily come in the same exact shade as your linens and bridesmaid dresses. Give your florist a general color scheme to work within, but don't be so rigid as to rule out variations and shades within that. After all, flowers come from nature. Their beauty stems (see what I did there) from their diversity and imperfection.
Plan Your Budget
Flowers are going to account for a big chunk of your budget, so it's important to find a florist whose style you like and whose vision you trust. Your floral cost will include the actual flowers along with the florist's time and artistry in putting them together and installing them on site. There are many floral details that will impact the final price, such as the types of blooms, seasonality, the complexity and size of the arrangements, your total guest count, and the size of your venue and number of areas to decorate.
Before reaching out to potential florists for a proposal, you should have a sense of how much you can spend on flowers. This will rule out some florists, and will also help your florist know how to approach the design proposal. A good rule of thumb for your floral budget is to land around ten percent of your total wedding budget, though this can vary depending on your situation. Be upfront with any florists you're considering about what your budget is and what your top priorities are for the floral design. That way, they will be able to suggest creative solutions and potential alternatives to stick to your budget while still bringing your dreams to life.
The Importance of Good Communication
Be sure to choose a florist who you communicate well with. With all of the inevitable stress of planning a wedding, you don't want confusion or miscommunication to add to the chaos. Here are a few good questions to ask your florist early in the process.
How do you handle contingency plans? For example, what if the floral wholesaler sent the wrong color of flowers or there's a shortage of one of the types of blooms we planned on?
Do you deliver and install the arrangements?
Will you provide vases, vessels, and other decor items to go with the flowers, or do we need to provide these?
What is your design timeline?
What are your payment policies? How much do you require up front, and when will the final payment be due?
Ask for Recommendations and Read Reviews
Last but not least, ask for floral recommendations! Has one of your friends been married recently? Did you attend a wedding last summer with gorgeous flowers? Asking around for recommendations may just lead you to your dream florist.
It's also important to read reviews on WeddingWire, Google, or the Knot to see what other couples have to say about the florists you're considering. This holds true for all your wedding vendors and is a great way to get a sense of the type of experience your wedding team will provide.
My Picks for the Top Wedding Florists in Utah
With all of that in mind, here are some of my recommendations for wonderful wedding florists in Utah. I've worked closely with each of them on real life weddings and have been so impressed with their talent and professionalism.
Wish Blossom
Visit Website
Susie Young is the floral artist behind Wish Blossom. She has over twenty years of experience in the Utah floral industry and creates beautiful, romantic arrangements with movement and texture. Her bubbly personality and enthusiasm are contagious, but she is also professional and efficient. Susie brings so much to the table and can combine your vision with her own creativity to deliver a truly unforgettable experience.
Location
Based in Salt Lake City, UT
Cost Information
$2000 average wedding starting price
$250 average bridal bouquet
$45 average bridesmaid bouquet
$22 average boutonniere
$65-$100 average table arrangement
What's Included
Consultation, Event Design, Venue Visit, Delivery, Setup, Cleanup
Lilac Floral
Visit Website
Becky Briggs is a fabulous floral designer who combines lush, elegant design with a natural aesthetic. She has ten years of experience serving Utah weddings and combines her love of both interior design and nature to create luxurious floral artwork. She and her team design with season and style in mind to bring your wedding vision to life.
Location
Based in Salt Lake City, UT, but serves destination weddings as well
Cost Information
$3500 wedding starting price
What's Included
Consultation, Delivery, Setup, Cleanup
Amber Reverie
Visit Website
Amber draws the inspiration for her natural, romantic floral designs from the world around her and from each couple's unique style. From minimalist blooms to lush, overflowing arrangements, Amber has an eye for nuance and artistry. Her designs are textural, elegant, and natural.
Location
Based in Highland, UT, but serves destination weddings as well
Cost Information
$5000 average wedding price
$300 average bridal bouquet
$150 average bridesmaid bouquet
$15 average boutonniere
$200-$300 average table arrangement
What's Included
Consultation, Event Design, Venue Visit, Delivery, Setup, Cleanup
The Potted Pansy
Visit Website
Mandy and her team work with couples to create floral visions that are wild, rich, and unique. Her style is inspired by the organic and surprising shapes and colors found in Utah's natural landscapes. The Potted Pansy takes a highly customized approach to wedding flowers, from single arrangements to extravagant displays. The style is textural, raw, and creative.
Location
Based in Pleasant Grove, UT
Cost Information
$3500 average wedding starting price
$350 average bridal bouquet
$150 average bridesmaid bouquet
$18 average boutonniere
$150-$175 average table arrangement
What's Included
Consultation, Event Design, Venue Visit, Delivery, Setup, Cleanup